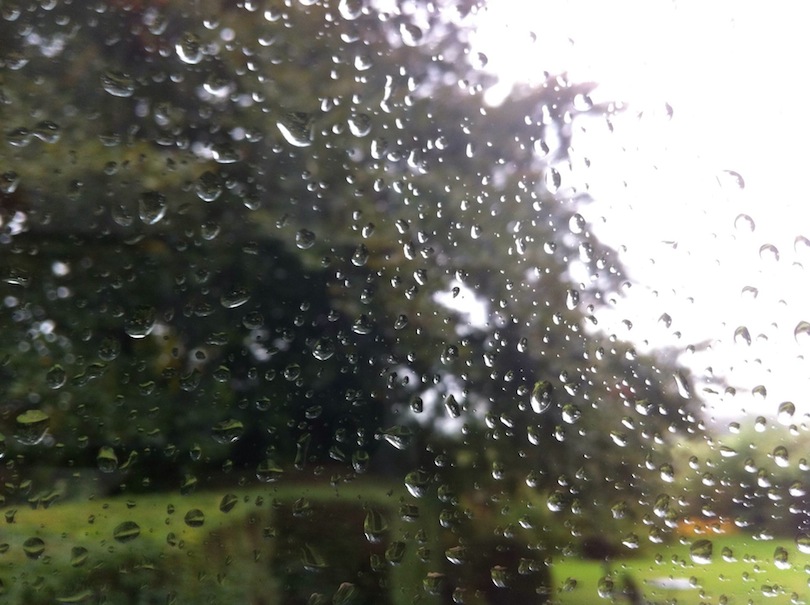 UPDATE 02.09.20 Die Stationsgrafiken wurden erweitert. Temperaturgrafik und Regentage unter Almanach -> Seperate Stationsgrafiken -> Temperatur
Besuchen Sie den Menüpunkt "Almanach / History" WU-Grafiken um Wetterdaten über die Jahre zu vergleichen!
Die Daten stammen von meiner Wetterstation und wurden von Weatherunderground aufgezeichnet.
You find our weather info also at:



---
WeatherUnderground graphs for this period ( click here ) Loading the graph can take up to a minute!
---
Daily Summary for Monday Apr 19 2021

Time
Temp. ( °C )
Dew pt. ( °C )
Wind ( km/h )
from
Gust ( km/h )
Pressure ( hPa )
Humid.( % )
Rainrate ( cm )
High
6,5
3,0
15,0
NNW ( 808/2010 )
15,0
1016,9
91
0,25
Average
3,4
0,9
7,8
NNW #86/258
9,6
1015,4
84
0,50
Low
0,9
-1,6
-
0,0
1014,9
71
-

Daily Tabular details for Monday Apr 19 2021

Time
Temp. ( °C )
Dew pt. ( °C )
Wind ( km/h )
from
Gust ( km/h )
Pressure ( hPa )
Humid.( % )
Rainrate ( cm )
00:04
1,1
-1,5
Calm
1016,9
83
-
00:09
1,0
-1,6
Calm
1016,9
83
-
00:14
1,0
-1,6
Calm
1016,9
83
-
00:19
1,0
-1,6
Calm
1016,9
83
-
00:23
1,1
-1,5
Calm
1016,9
83
-
00:29
1,1
-1,3
Calm
1016,9
84
-
00:34
1,1
-1,3
Calm
1016,9
84
-
00:39
1,2
-1,2
Calm
1016,9
84
-
00:44
1,2
-1,2
Calm
1016,9
84
-
00:49
1,2
-1,2
Calm
1016,9
84
-
00:54
1,2
-1,2
Calm
1016,9
84
-
00:59
1,2
-1,2
Calm
1016,9
84
-
01:03
1,2
-1,2
Calm
1016,9
84
-
01:09
1,2
-1,2
Calm
1016,9
84
-
01:14
1,2
-1,2
Calm
1016,9
84
-
01:19
1,2
-1,2
Calm
1015,9
84
-
01:24
1,2
-1,2
Calm
1015,9
84
-
01:29
1,1
-1,3
Calm
1015,9
84
-
01:34
1,1
-1,3
Calm
1015,9
84
-
01:39
1,1
-1,3
Calm
1015,9
84
-
01:44
1,0
-1,4
Calm
1015,9
84
-
01:49
1,0
-1,4
Calm
1015,9
84
-
01:54
1,0
-1,4
Calm
1015,9
84
-
01:59
1,0
-1,4
5,0
SW
1015,9
84
-
02:04
0,9
-1,5
5,0
SW
5,0
1015,9
84
-
02:09
0,9
-1,5
5,0
SW
5,0
1015,9
84
-
02:14
1,0
-1,4
5,0
SW
5,0
1015,9
84
-
02:19
1,0
-1,1
5,0
SW
6,0
1015,9
86
-
02:24
1,0
-1,1
Calm
6,0
1015,9
86
-
02:29
1,0
-1,1
Calm
6,0
1015,9
86
-
02:34
1,0
-1,1
Calm
5,0
1015,9
86
-
02:39
1,0
-1,4
Calm
1015,9
84
-
02:44
1,0
-1,4
Calm
1015,9
84
-
02:49
1,0
-1,4
Calm
1015,9
84
-
02:54
1,1
-1,0
Calm
1015,9
86
-
02:58
1,2
-0,9
5,0
SW
1015,9
86
-
03:04
1,3
-0,8
6,0
NNW
6,0
1015,9
86
-
03:09
1,4
-0,5
6,0
NNW
6,0
1015,9
87
-
03:14
1,4
-0,5
5,0
NNW
6,0
1015,9
87
-
03:18
1,4
-0,5
Calm
6,0
1015,9
87
-
03:22
1,4
-0,5
Calm
6,0
1015,9
87
-
03:29
1,4
-0,5
Calm
5,0
1015,9
87
-
03:34
1,4
-0,5
Calm
1015,9
87
-
03:39
1,4
-0,5
6,0
NNW
1015,9
87
-
03:43
1,4
-0,5
6,0
NNW
6,0
1015,9
87
-
03:49
1,4
-0,5
6,0
NNW
6,0
1015,9
87
-
03:54
1,4
-0,5
6,0
NNW
6,0
1015,9
87
-
03:59
1,5
-0,4
6,0
NNW
6,0
1015,9
87
-
04:04
1,6
-0,3
10,0
NNW
8,0
1015,9
87
-
04:09
1,6
-0,3
10,0
NW
10,0
1015,9
87
-
04:14
1,7
-0,1
8,0
NNW
13,0
1015,9
88
-
04:19
1,8
0,0
8,0
NNW
13,0
1015,9
88
-
04:24
1,8
0,0
10,0
NNW
10,0
1015,9
88
-
04:29
1,8
0,0
10,0
NNW
10,0
1015,9
88
-
04:34
1,9
0,1
10,0
NNW
10,0
1015,9
88
-
04:39
1,9
0,1
8,0
NNW
10,0
1015,9
88
-
04:44
1,9
0,1
8,0
NNW
10,0
1015,9
88
-
04:49
1,9
0,1
8,0
NNW
10,0
1015,9
88
-
04:54
1,9
0,1
10,0
NNW
10,0
1015,9
88
-
04:57
1,9
0,1
8,0
NNW
10,0
1015,9
88
-
05:04
1,9
0,1
6,0
NW
10,0
1014,9
88
-
05:09
1,9
0,1
8,0
NNW
10,0
1014,9
88
-
05:14
1,9
0,1
13,0
NNW
10,0
1014,9
88
-
05:19
1,9
0,1
11,0
NNW
13,0
1014,9
88
-
05:24
1,8
0,0
10,0
NW
13,0
1014,9
88
-
05:29
1,8
0,0
13,0
NNW
13,0
1014,9
88
0,25
05:34
1,8
0,0
10,0
NNW
13,0
1014,9
88
0,25
05:37
1,8
0,0
6,0
NNW
13,0
1014,9
88
0,25
05:44
1,7
-0,1
8,0
NNW
13,0
1014,9
88
0,25
05:49
1,7
-0,1
10,0
NNW
10,0
1014,9
88
0,25
05:54
1,6
-0,2
6,0
NNW
10,0
1014,9
88
0,25
05:59
1,6
-0,2
8,0
NNW
10,0
1014,9
88
0,25
06:04
1,5
-0,3
6,0
NNW
10,0
1014,9
88
0,25
06:09
1,5
-0,3
8,0
NNW
8,0
1014,9
88
0,25
06:13
1,4
-0,4
5,0
NNW
8,0
1014,9
88
0,25
06:19
1,4
-0,4
8,0
NNW
8,0
1014,9
88
0,25
06:24
1,4
-0,4
8,0
NNW
8,0
1014,9
88
0,25
06:28
1,4
-0,4
8,0
NNW
10,0
1014,9
88
0,25
06:34
1,4
-0,4
6,0
North
10,0
1014,9
88
-
06:37
1,4
-0,4
6,0
NNW
10,0
1014,9
88
-
06:42
1,4
-0,4
6,0
NNW
10,0
1014,9
88
-
06:47
1,4
-0,4
6,0
NW
10,0
1014,9
88
-
06:54
1,4
-0,4
10,0
North
10,0
1014,9
88
-
06:59
1,4
-0,2
10,0
North
11,0
1014,9
89
-
07:04
1,4
-0,2
15,0
NNW
11,0
1014,9
89
-
07:09
1,4
-0,2
13,0
NNW
15,0
1014,9
89
-
07:14
1,4
-0,2
10,0
NNW
15,0
1014,9
89
-
07:18
1,5
-0,1
10,0
North
15,0
1014,9
89
-
07:23
1,5
-0,1
10,0
North
13,0
1014,9
89
-
07:28
1,6
0,0
8,0
North
10,0
1014,9
89
-
07:34
1,6
0,1
8,0
North
10,0
1014,9
90
-
07:39
1,7
0,2
8,0
North
10,0
1014,9
90
-
07:43
1,8
0,3
10,0
North
10,0
1014,9
90
-
07:49
1,8
0,3
6,0
North
10,0
1014,9
90
-
07:54
1,9
0,4
10,0
NNW
10,0
1014,9
90
-
07:59
2,0
0,5
6,0
NNW
10,0
1015,9
90
-
08:03
2,0
0,5
10,0
NNW
10,0
1015,9
90
-
08:09
2,1
0,6
8,0
North
10,0
1015,9
90
-
08:14
2,2
0,9
6,0
North
10,0
1015,9
91
-
08:19
2,4
1,1
8,0
North
10,0
1015,9
91
-
08:24
2,5
1,2
8,0
NNW
10,0
1015,9
91
-
08:29
2,6
1,3
10,0
NNW
10,0
1015,9
91
-
08:34
2,7
1,4
8,0
NNW
10,0
1015,9
91
-
08:39
2,8
1,5
13,0
NNW
10,0
1015,9
91
-
08:44
2,9
1,6
10,0
NW
10,0
1015,9
91
-
08:49
3,0
1,6
10,0
NNW
13,0
1015,9
91
-
08:54
3,1
1,6
10,0
NNW
13,0
1015,9
90
-
08:58
3,1
1,6
10,0
NNW
11,0
1015,9
90
-
09:04
3,2
1,7
8,0
North
11,0
1015,9
90
-
09:08
3,3
1,8
5,0
NNE
11,0
1015,9
90
-
09:14
3,3
1,8
10,0
North
10,0
1015,9
90
-
09:19
3,4
1,9
6,0
North
10,0
1015,9
90
-
09:24
3,5
2,0
5,0
NE
10,0
1015,9
90
-
09:29
3,6
2,1
Calm
10,0
1015,9
90
-
09:34
3,7
2,2
8,0
NNE
8,0
1015,9
90
-
09:39
3,8
2,3
10,0
NW
8,0
1015,9
90
-
09:44
3,8
2,2
10,0
NNW
10,0
1015,9
89
-
09:48
3,9
2,3
10,0
NW
10,0
1015,9
89
-
09:54
4,0
2,4
10,0
NNW
10,0
1015,9
89
-
09:59
4,0
2,4
10,0
NNW
10,0
1015,9
89
-
10:04
4,1
2,5
8,0
NNW
13,0
1015,9
89
-
10:08
4,2
2,5
10,0
NNW
13,0
1015,9
89
-
10:14
4,3
2,5
11,0
NNW
13,0
1015,9
88
-
10:19
4,3
2,5
10,0
NNW
13,0
1015,9
88
-
10:24
4,4
2,6
10,0
NE
13,0
1015,9
88
-
10:29
4,4
2,6
10,0
NNE
13,0
1015,9
88
-
10:33
4,3
2,3
6,0
NE
10,0
1015,9
87
-
10:38
4,3
2,3
6,0
NNE
10,0
1015,9
87
-
10:44
4,3
2,2
10,0
NE
10,0
1015,9
86
-
10:49
4,3
2,2
8,0
NE
10,0
1015,9
86
-
10:54
4,3
2,2
10,0
NE
10,0
1015,9
86
-
10:59
4,5
2,4
6,0
ENE
10,0
1015,9
86
-
11:04
4,6
2,5
8,0
NNE
10,0
1015,9
86
-
11:09
4,7
2,6
8,0
NNE
10,0
1015,9
86
-
11:14
4,8
2,7
6,0
North
10,0
1015,9
86
-
11:19
4,7
2,2
10,0
NNE
10,0
1015,9
84
-
11:24
4,7
2,2
8,0
North
10,0
1015,9
84
-
11:29
4,7
2,2
10,0
North
10,0
1015,9
84
-
11:32
4,6
2,0
6,0
North
10,0
1015,9
83
-
11:38
4,5
1,9
8,0
NNE
10,0
1015,9
83
-
11:44
4,4
1,6
8,0
North
10,0
1015,9
82
-
11:49
4,3
1,5
6,0
NNE
10,0
1015,9
82
-
11:53
4,3
1,5
8,0
NE
8,0
1015,9
82
-
11:59
4,2
1,4
10,0
NE
8,0
1015,9
82
-
12:04
4,2
1,4
8,0
NNE
10,0
1015,9
82
-
12:09
4,2
1,6
8,0
NNE
10,0
1015,9
83
-
12:14
4,2
1,6
10,0
NNW
10,0
1015,9
83
-
12:19
4,3
1,8
6,0
NW
8,0
1015,9
84
-
12:23
4,6
2,5
6,0
NW
10,0
1015,9
86
-
12:28
4,8
2,7
8,0
WNW
10,0
1015,9
86
-
12:34
5,3
2,8
8,0
NW
8,0
1015,9
86
-
12:39
5,7
2,9
3,0
NNW
8,0
1015,9
83
-
12:44
5,8
3,0
13,0
North
8,0
1015,9
82
-
12:49
5,7
2,7
10,0
North
13,0
1014,9
81
-
12:54
5,7
2,7
15,0
North
13,0
1014,9
81
-
12:58
5,5
2,3
13,0
NNW
15,0
1014,9
80
-
13:04
5,5
2,3
15,0
NNW
15,0
1014,9
80
-
13:09
5,6
2,4
15,0
NNW
15,0
1014,9
80
-
13:13
5,6
2,4
13,0
NNW
15,0
1014,9
80
-
13:19
5,5
2,3
15,0
NNW
15,0
1014,9
80
-
13:24
5,5
2,3
13,0
NNW
15,0
1014,9
80
-
13:29
5,4
2,2
8,0
North
15,0
1014,9
80
-
13:34
5,5
2,1
8,0
NE
15,0
1014,9
79
-
13:39
5,5
2,1
8,0
NE
13,0
1014,9
79
-
13:44
5,5
2,1
10,0
NE
10,0
1014,9
79
-
13:49
5,4
1,9
10,0
North
13,0
1014,9
78
-
13:54
5,5
2,0
13,0
North
13,0
1014,9
78
-
13:59
5,5
2,0
13,0
North
13,0
1014,9
78
-
14:04
5,5
2,0
15,0
North
13,0
1014,9
78
-
14:09
5,5
2,0
8,0
NNE
15,0
1014,9
78
-
14:14
5,6
2,1
6,0
NE
15,0
1014,9
78
-
14:19
5,7
1,7
6,0
NE
15,0
1014,9
76
-
14:24
5,7
1,6
10,0
North
8,0
1014,9
75
-
14:28
5,8
1,7
6,0
NE
10,0
1014,9
75
-
14:34
6,1
1,8
10,0
NE
10,0
1014,9
74
-
14:39
6,2
1,9
6,0
NNE
10,0
1014,9
74
-
14:44
6,4
1,9
10,0
NNE
10,0
1014,9
73
-
14:48
6,4
1,9
8,0
NNE
10,0
1014,9
73
-
14:54
6,5
1,6
10,0
North
10,0
1014,9
71
-
14:59
6,5
1,6
11,0
NW
10,0
1014,9
71
-
15:04
6,5
1,6
10,0
NNW
13,0
1014,9
71
-
15:09
6,5
1,6
11,0
NNW
13,0
1014,9
71
-
15:14
6,4
1,7
11,0
North
13,0
1014,9
72
-
15:19
6,3
1,6
13,0
NNE
13,0
1014,9
72
-
15:24
6,1
1,4
13,0
NNE
13,0
1014,9
72
-
15:28
5,9
1,3
10,0
NNE
13,0
1014,9
73
-
15:34
5,7
1,3
13,0
NNE
13,0
1014,9
74
-
15:39
5,5
1,3
11,0
NNE
13,0
1014,9
75
-
15:44
5,4
1,3
13,0
NNE
13,0
1014,9
76
-
15:49
5,1
1,2
10,0
North
13,0
1014,9
76
-
15:54
4,9
1,4
10,0
North
13,0
1014,9
78
-
15:59
4,8
1,3
13,0
North
13,0
1014,9
78
-
16:02
4,7
1,4
8,0
North
13,0
1014,9
79
-
16:09
4,7
1,4
10,0
North
13,0
1014,9
79
-
16:14
4,7
1,5
10,0
NNE
13,0
1014,9
80
-
16:19
4,7
1,5
10,0
NE
13,0
1014,9
80
-
16:24
4,8
1,6
6,0
NE
13,0
1014,9
80
-
16:29
4,9
1,7
10,0
NNE
13,0
1014,9
80
-
16:34
5,0
1,8
10,0
NE
10,0
1014,9
80
-
16:39
5,0
1,8
8,0
NNE
13,0
1014,9
80
-
16:43
5,0
1,8
10,0
NNE
13,0
1014,9
80
-
16:49
5,1
1,8
10,0
NNE
13,0
1014,9
79
-
16:52
5,1
1,8
11,0
NNE
13,0
1014,9
79
-
16:57
5,1
1,8
10,0
North
13,0
1014,9
79
-
17:04
5,1
1,8
10,0
North
13,0
1014,9
79
-
17:09
5,1
1,8
10,0
North
13,0
1014,9
79
-
17:14
5,0
1,7
10,0
NNW
13,0
1014,9
79
-
17:19
5,0
1,7
10,0
NNW
13,0
1014,9
79
-
17:24
5,0
1,7
8,0
North
13,0
1014,9
79
-
17:29
5,0
1,7
13,0
North
13,0
1014,9
79
-
17:34
5,0
1,7
8,0
North
13,0
1014,9
79
-
17:39
5,0
1,5
10,0
North
13,0
1014,9
78
-
17:44
5,0
1,5
10,0
NNW
13,0
1014,9
78
-
17:49
5,0
1,7
8,0
NNW
13,0
1014,9
79
-
17:54
4,9
1,6
10,0
NNW
13,0
1014,9
79
-
17:59
4,9
1,6
10,0
NNE
13,0
1014,9
79
-
18:04
4,9
1,6
10,0
NE
13,0
1014,9
79
-
18:09
4,9
1,6
10,0
NE
10,0
1014,9
79
-
18:14
4,9
1,6
10,0
NE
10,0
1014,9
79
-
18:19
4,9
1,6
8,0
NE
10,0
1014,9
79
-
18:24
4,9
1,6
8,0
NNE
10,0
1014,9
79
-
18:27
4,8
1,5
10,0
NNE
13,0
1014,9
79
-
18:34
4,8
1,3
8,0
NNE
13,0
1014,9
78
-
18:39
4,8
1,5
10,0
NNE
13,0
1014,9
79
-
18:44
4,8
1,5
8,0
NNE
13,0
1014,9
79
-
18:49
4,8
1,5
10,0
NNW
10,0
1014,9
79
-
18:54
4,8
1,5
13,0
NNW
10,0
1014,9
79
-
18:59
4,7
1,5
13,0
NNW
13,0
1014,9
80
-
19:04
4,7
1,5
13,0
NNW
13,0
1014,9
80
-
19:09
4,6
1,4
15,0
North
15,0
1014,9
80
-
19:13
4,5
1,4
10,0
North
15,0
1014,9
80
-
19:18
4,4
1,4
13,0
NNE
15,0
1014,9
81
-
19:24
4,3
1,3
10,0
NNE
15,0
1014,9
81
-
19:28
4,2
1,2
6,0
NNE
13,0
1014,9
81
-
19:34
4,2
1,2
8,0
NE
13,0
1014,9
81
-
19:39
4,1
1,1
6,0
NNE
10,0
1014,9
81
-
19:42
4,1
1,1
6,0
North
10,0
1014,9
81
-
19:49
4,0
1,0
6,0
North
10,0
1014,9
81
-
19:54
3,9
0,9
5,0
NNE
6,0
1014,9
81
-
19:59
3,8
0,8
6,0
NNE
6,0
1014,9
81
-
20:04
3,8
1,0
10,0
North
6,0
1014,9
82
-
20:08
3,7
0,9
10,0
North
10,0
1014,9
82
-
20:14
3,7
0,9
10,0
North
10,0
1014,9
82
-
20:19
3,7
1,1
13,0
NNW
10,0
1014,9
83
-
20:23
3,6
1,0
8,0
NNW
13,0
1014,9
83
-
20:29
3,6
1,0
13,0
NNW
13,0
1014,9
83
-
20:34
3,6
1,2
10,0
NNW
13,0
1014,9
84
-
20:39
3,6
1,2
10,0
NNW
13,0
1014,9
84
-
20:44
3,6
1,2
10,0
NNW
13,0
1014,9
84
-
20:49
3,6
1,2
8,0
North
13,0
1014,9
84
-
20:54
3,6
1,2
8,0
NNW
10,0
1014,9
84
-
20:59
3,6
1,2
10,0
NNW
10,0
1014,9
84
-
21:04
3,6
1,2
10,0
North
10,0
1014,9
84
-
21:09
3,5
1,1
8,0
NNW
10,0
1014,9
84
-
21:14
3,5
1,1
6,0
North
10,0
1014,9
84
-
21:19
3,5
1,1
8,0
North
10,0
1014,9
84
-
21:24
3,5
1,1
6,0
North
8,0
1014,9
84
-
21:29
3,5
1,1
8,0
NNW
8,0
1014,9
84
-
---
Download your copy of this data-set here